PSYCHOLOGICAL COUNSELING TO THE MOTHER WHO IS AFRAID OF LOSING HER CHILD: A CASE REPORT
Abstract
Fear is defined as a natural response to a perceived or real threat (Gullone, 2000). Individuals who experience fear might exhibit affective, behavioral, and cognitive reactions. By minimizing these reactions, it is critical for the client to have normal feelings and thoughts. In this case, the goal is to alleviate the client's concern that her husband may take her child after he is released from prison. The goal of this study is to minimize the client's anxiety about losing her child by utilizing a cognitive behavioral approach, an individual-centered approach, a gestalt approach, and psychological counseling strategies.In addition to the cognitive and individual-centered approaches, a holistic approach was used in the sessions, which included Worden's (2001) and Mallinson's (2001) models. As a result, an eclectic method was utilized to create a case formulation. Furthermore, the study was conducted in a qualitative manner. After the counseling sessions, it was seen that the client's fear level has decreased significantly. The client's concern was lessened even more a few days before the last session, since her spouse did not exhibit any unpleasant behavior after his release from prison.
Keywords: Anxiety, fear, separation anxiety.
REFERENCES
American Psychiatric Association (2001). Diagnostic and statistical manual of mental disorders, 4th Edition (DSM-IV), American Psychiatric Association, Washington Dc, (Translated by Köroğlu E), Hekimler Publications Association.
Beck, S. J. (2021). Cognitive behavior therapy: Basics and beyond, Translated by M. Şakin. Ankara: Nobel Publications.
Burns, D. (2020). Feeling good (H. Alp Karaosmanoğlu, Translator). İstanbul: Psikonet Publications.
Büyüköztürk, Ş., Kılıç-Çakmak, E., Akgün, Ö. E., Karadeniz, Ş., & Demirel, F. (2016). Bilimsel araştırma yöntemleri [Scientific research methods]. (20th edition). Ankara: Pegem Akademi.
Corey, G. (2008). Theory and practice of counseling and psychotherapy (T. Ergene, Transl.). Ankara: Mentis Publications (Original Work Published in 2005).
Cüceloğlu, D. (2012). İnsan ve davranışı: Psikolojinin temel kavramları [Man and his behavior: Basic concepts of psychology]. İstanbul: Remzi Kitap publishing house.
Çapar, H. (2018). Bilişsel davranışçı terapi: Temel ilke ve uygulamalar [Cognitive behavioral therapy: Basic principles and practices]. İstanbul: Epsilon Publications.
Çetin, S. B., & Avcı, Ö. H. (2022). Çocuklarda ayrılık kaygısı ile anne-babanın ayrılık kaygısı ve ebeveynliğe yönelik tutumları [Separation anxiety in children, parents' separation anxiety and parental attitudes]. Journal of Education for Life, 36(1), 162-182.
Çetin, S. B. (2017). Çocuklarda ayrılık kaygısı ile anne-babanın ayrılık kaygısı ve ebeveynliğe yönelik tutumları (Post Graduate Thesis). Hacettepe University, Institute of Social Science, Ankara.
Çoker, Ç. (2014). Gündelik hayatta korku kavramının söylemsel psikolojik düzeyde incelenmesi [An analysis of fear in everyday life with a discursive psychological perspective] (Unpublished doctoral dissertation). İstanbul University Institute of Social Science, İstanbul.
De Bono, E. (1985). The CoRT thinking program. Thinking and learning skills, 1, 363-378.
Egan, G. (2011).  The skilled helper. İstanbul: Kaknüs Publications.
Gullone, E. (2000). The development of normal fear: A century of research. Clinical Psychology Review, 20(4), 429-451.
Gullone, E., King, N. J., & Ollendick, T. H. (2000). The development and psychometric evaluation of the fear experiences questionnaire: An attempt to disentangle the fear and anxiety constructs. ClinicalPsychology and Psychotherapy, 7, 61-75.
Hackney, H., & Cormier, S. (2008). Counseling strategies and interventions. Psychological Intervention Process Handbook. (Transl. T. Ergene, S. A. Sevim) Ankara: Mentis.
Holmes, J. (2014). John Bowlby and attachment theory. Routledge.
Karlıdağ, R., Ünal, S., Avcı, A., & Sipahi, B. (2002). Bir olgu sunumu: Ailesel özellik gösteren ayrılma anksiyetesi bozukluğu [A case study: Familiality in separation anxiety]. Turkish Journal of Child and Adolescent Mental Health, 9(1), 41-46.
Kaya, M. M. (2021). Ayrılma kaygisi bozukluğu üzerine bir inceleme [An examination on separation anxiety disorder]. The Journal of Social Sciences Academy, 45(2), 209-220.
Lufi, D., &Darliuk, L. (2005). Theinteractiveeffect of test anxiety and learning disabilities among adolescents.  International Journal of Educational Research, 43(4-5), 236-249.
Malkinson, R. (2009). Cognitive-behavioral therapy of grief (Translator S. K. Akbaş). Ankara: Hedef.
Mallinson, J. J. (2001). Saving Brazil's Atlantic rainforest: Using the golden-headed lion tamarin Leontopithecus chrysomelas as a flagship for a biodiversity hotspot. DODO-TRINITY-, 37, 9-20.
Manicavasagar, V., Silove, D., & Curtis, J. (1997). Separation anxiety in adulthood: A phenomenological investigation. Comprehensive Psychiatry, 38(5), 274-282.
Nazlıoğlu, A. G. (2019). Çocuğun ayrılık kaygısı ile annelerinin kaygı düzeyleri ve ebeveynlik tutumları arasındaki ilişki [A relationship of child separation anxiety and anxiety levels and parenting attitudes of their mothers]. (Post Graduate Thesis). Hacettepe University, Institute of Social Science, Ankara.
Peleg-Popko, O. (2004). Differentiation and test anxiety in adolescents. Journal of Adolescence. 27, 645- 662.
Perusini, J. N., & Fanselow, M. S. (2015). Neurobehavioral perspectives on the distinction between fear and anxiety. Learning & Memory, 22(9), 417-425.
Riley, D. S., Barber, M. S., Kienle, G. S., Aronson, J. K., von Schoen-Angerer, T., Tugwell, P., ... & Gagnier, J. J. (2017). CARE guidelines for case reports: Explanation and elaboration document. Journal of Clinical Epidemiology, 89, 218-235.
Segal, J. (1999). Living beyond fear. Translated by Murat Kartal, İstanbul, Mavi Psikoloji Publications, 2nd Edition, 86, 146.
Şenol, D., & Gülver, Ö. (2020). Kadın ve erkeklerde suç korkusuna nitel araştırma ile sosyolojik bir bakış [A sociological perspective on fear of crime in men and women with qualitative research]. Kriz Dergisi, 28(2), 101-123.
Türkbay, T. (1999). Ayrılık kaygısı bozukluğunda psikolojik, ailesel ve sosyal etmenlerin araştırılması [in Turkish] (Specialization Thesis in Medicine). Ankara: Gulhane Military Medical Academy, Military Medical Faculty.
Worden, W. (2001). Grief counseling and grief therapy: A handbook for the mental health practitioner. New York: Brunner-Routledge.
Yıldırım, A., & Şimşek, H. (2021). Sosyal bilimlerde nitel araştırma yöntemleri [Qualitative research methods in the social sciences]. Ankara: Seçkin Publications.
Yüksel, A. N. (2020). Nitel bir araştırma tekniği olarak: Görüşme [As a qualitative research technique: Interview]. Social Sciences Studies Journal, 56, 547, 552.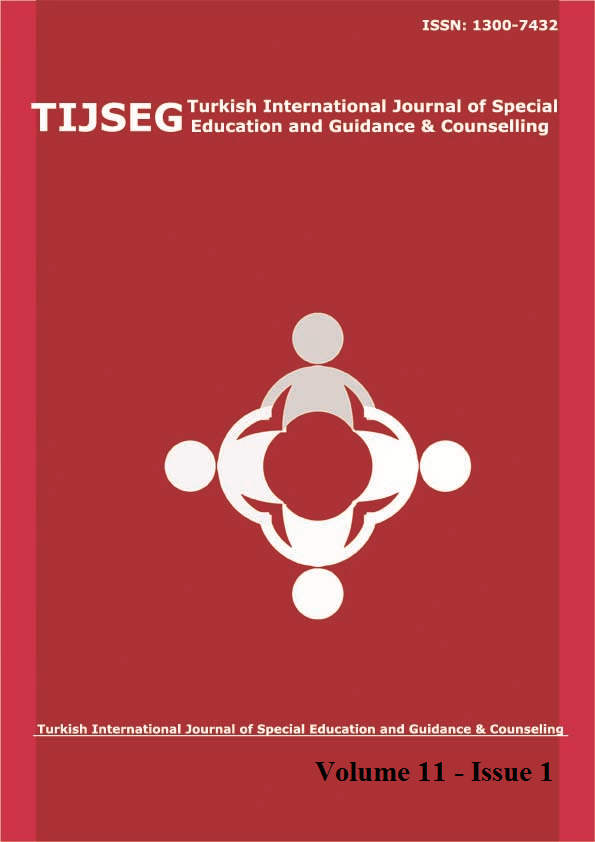 Downloads
How to Cite
TOPLU, A. ., & GÖRKEM, A. . (2022). PSYCHOLOGICAL COUNSELING TO THE MOTHER WHO IS AFRAID OF LOSING HER CHILD: A CASE REPORT. Turkish International Journal of Special Education and Guidance & Counselling ISSN: 1300-7432, 11(1), 36–46. Retrieved from https://tijseg.org/index.php/tijseg/article/view/157
License
Copyright (c) 2022 Turkish International Journal of Special Education and Guidance & Counselling ISSN: 1300-7432
This work is licensed under a Creative Commons Attribution 4.0 International License.