SOCIAL NETWORKING USAGE AND ACADEMIC PERFORMANCE OF SCHOOL-GOING ADOLESCENTS IN OYO CITY, NIGERIA
Abstract
Students' involvement in social network activities has been a topical issue in the academics sphere. This could have enormous influence on their education. This study thus examined the relationship between social network usage and academic performance of secondary school students in Oyo City, Oyo State, Nigeria. Correlational design method was adopted for the study. The 180 students in the study were selected using simple random sampling technique from four Local Government Areas in the City. A researcher's designed instrument entitled "Social Network Sites Usage Questionnaire (SNSUQ)", with a test re-test reliability index of .81 was used to collect data for the study. On the other hand, the students' academic performance was measured using their overall grade in their third term English and Mathematics examination results. Pearson's (r) statistic was used to test the null hypotheses at 0.05 alpha level. The study revealed that social network sites usage (Facebook, Whatsapp, Instangram and Internet search) has negative relationship with the students' academic performance. It is recommended in this regard that education stakeholders; parents and school should work together in monitoring students' activities on social network and design a programme to encourage them towards using social networking channels to improve their academic achievement.
Keywords: Social network usage, academic performance, secondary school students, Oyo City.
REFERENCES
Ahmed, S., Rony, R. J., Ashhab, M., & Ahmed, N. (2020). An empirical study to analyse the impact of Intangram on students' academic results. IEEE Region 10 Symposium, 5-7 June 2020, Dhaka, Bangladesh. https://www.researchgate.net/publication/344284791_An_Empirical_Study_to_Analyze_the_Impact_of_Instagram_on_Students'_Academic_Results.
Alatawi, M. (2016). High school students as Snappers and Instagramers and their academic performance. Journal of Emerging Trends in Computing and Information Science, 7(4), 16-22.
Al-Hassan, A., Abdul-Karim, A., Christian, F., & Iddriss, I. M. (2017). Relationship between Whatsapp usage and academic performance. A B.Sc. Published Research Project, Department of Business and Social Sciences Education of the College of Education Studies, University of Cape Coast.
Apuke, O. D. (2016). The influence of social media on academic performance of undergraduate students of Taraba State University, Jalingo, Nigeria. Research on Humanities and Social Sciences, 6(19), 16-22.
Brown, S. (2010). From VLEs to learning webs: The implications of Web 2.0 for learning. A manual for online and multimedia journalism practice in Africa. Ibadan: Emgee Publishers Ltd.
Celestine, A. U., & Nonyelum, O. F. (2015). Impact of social media sites on student academic performance in Samuel Adegboyega University. International Journal of Scientific & Engineering Research, 9(3), 2-10.
Daluba, N. E., & Maxwell, C. E. O. (2013). Effect of social media on the use of academic library by undergraduate students in tertiary institutions: A case study of Kogi State University. Academic Research International, 4(5), 536-542.
Daramola, R., & Umar, T. A. (2021). Effects of Whatsapp on the academic performance of business education students in cost accounting in Federal Colleges of Education in North-West, Nigeria. Al-Hikmah Journal of Educational Management and Counselling, 3(1), 187-198.
Feng, S., Wong, Y. K., Wong, L. Y., & Hossain, L. (2019). The internet and facebook usage on academic distraction of college students. Computer and Education, 134, 41-49
Junco, R. (2012). Too much face and not enough books: The relationship between multiple indices of Facebook use and academic performance. Computers in Human Behavior, 28, 187-198.
Lambic, D. (2016). Correlation between Facebook use for educational purposes and academic performance of students. Computers in Human Behavior, 61, 313-320.
Mohammed, I. M., & Abdullahi, M. (2020). Influence of social media on students academic performance in College of Education (Technical), Lafiagi Kwara State. Al-Hikmah Journal of Education, 7(2), 185-197.
Munkaila, A., & Iddrisu, A. (2015). The impact of social net-worksites on the academic performance of students in the Polytechnics of Ghana. International Journal of Economics, Commerce and Management, 3(11), 1021-1035.
Neese, T. G. (2005). The effect of internet addiction and self-control on achievement of elementary school children. Korean Journal of Yeolin Education, 5(3), 22-34.
Osharive, P. (2015). Social media and academic performance of students in University of Lagos. Retrieved from https://www.researchate.net/publication/273765340.
Perifanou, M., Tzafilkou, K., & Economides, A. A. (2021). The role of Instagram, Facebook and YouTube frequency of use in university students' digital skills components. Educational Science, 11, 766. https://doi.org/10.3390/educsci11120766.   
Sarker, G. R. (2015). Impact of Whatsapp messenger on the university level students: A sociological study. International Journal of Natural and Social Sciences, 2(4), 118-125.
Shabir, G., Mahmood, Y., Hameed, Y., & Safdar, G. (2014). The impact of social media on youth: A case study of Bahawalpur city. Asian Journal of Social Sciences & Humanities, 3, 132-151.
Tuurosong, D., & Faisal, A. M.  (2014). The social media scourge among university students: A study of the University development Studies, Ghana. Journal of Asian Development Studies 3(2), 1-8.
Valkenburg, P. M., & Piotrowski, J. T. (2017). Plugged-In: How media attract and affect youth. New Haven and London: Yale University Press.
Wang, Y., & Mark, G. (2018). The context of college students' facebook use and academic performance: An empirical study. CHI, 18, 111.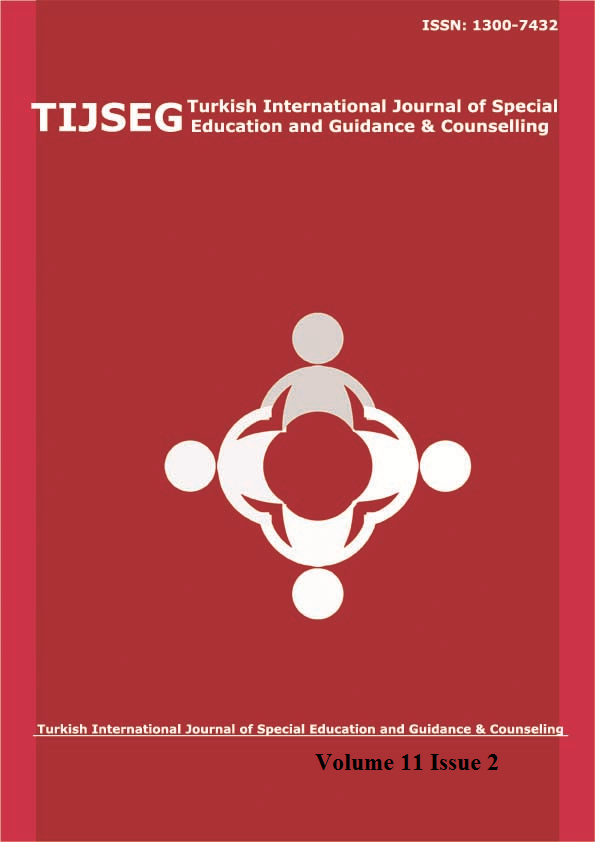 Downloads
How to Cite
GARBA, F. W. (2022). SOCIAL NETWORKING USAGE AND ACADEMIC PERFORMANCE OF SCHOOL-GOING ADOLESCENTS IN OYO CITY, NIGERIA. Turkish International Journal of Special Education and Guidance & Counselling ISSN: 1300-7432, 11(2), 115–121. Retrieved from https://tijseg.org/index.php/tijseg/article/view/169
License
Copyright (c) 2022 Turkish International Journal of Special Education and Guidance & Counselling ISSN: 1300-7432
This work is licensed under a Creative Commons Attribution 4.0 International License.