THE STATE OF SPECIAL SCHOOLS IN GHANA: PERCEPTIONS OF SPECIAL EDUCATORS IN ASHANTI AND BRONG AHAFO REGIONS OF GHANA
Abstract
Special education is aimed at providing a wide range of services to enable children who need special assistance, logistics and teaching methods to participate in the educational system.  Special schools perform these functions by providing children with disabilities the support they need to participate in teaching and learning.  This study investigated the state of special schools in Ashanti and Brong Ahafo regions of Ghana. The aim was to assess conditions in the schools, from the perspectives of special educators, to ascertain if the schools were preforming the functions for which they have established. An in-depth interview was conducted with 20 participants, made up of special education officials at the national head office, district special education coordinators, headmasters and teachers of special schools. The results from the study suggest that special schools in the two regions were ill-resourced and were turning out students with low academic and vocational achievements. These findings are discussed in relation to the purpose of special education and the commitment of government to provide quality education for children with disabilities.  
Keywords: Children with disabilities, general education, special education, Ghana,
REFERENCES
Agbenyega J. S. (2003). The power of labeling discourse in the construction of disability in
           Ghana.  Retrieve from http://www.aare.edu.au/03pap/agb03245.pdf
Akingkugbe O. (2012). Special Needs children's experience in Ghana: Investigating key factors
in their academic success at the primary school level. (Published Bachelors Thesis, University of Education, Winneba). Retrieved 24th February, 2015 from
              http://air.ashesi.edu.gh/bitstream/handle/123456789/107/iyinnitoluwa.akinkugbe--
           Thesis_314.pdf?sequence=1 
Akyeampong K.,Djangmah J.,Oduro A.,Seidu A. and Hunt F. (2007), Access to Basic Education    
                 in Ghana: The evidence and the issues. Brighton: CREATE publications. Available                 
                 from:
<http://www.create-rpc.org/pdf_documents/Ghana_CAR.pdf>[20 December, 2014].
Avoke, M. (2004). Introduction to special education for Universities and Colleges. Accra: City Publishers
Baxter, P. and Jack, S. (2008 ) Qualitative case study methodology: study design and
            implementation for novice researcher. The Qualitative Report, 13 (4), 44-559.
Bunch, G. Jupart, J and Brown, M. (2007)"Acceptance and Resistance": Educator
Attitudes towards Inclusion of Students with Disabilities. Unpublished
research report
Fefoame O. (2009), Barriers to Education: A voice from the field. Available from:<www.sightsavers.org/in_depth/policy_and_research/education/13072_barrier>
[10 October 2014].
Gadagbui G. Y. (2008). Inclusive Education in Ghana: Practices, challenges and the future implications for all stakeholders. Available from: <http//www.natcomreport.com/Ghana/livre/inclusive-education.pdf>
[10 November 2014].
Gilmore, L., Campbell, J. & Cuskelly, M. (2003). Developmental expectations, personality stereotypes, and attitudes towards inclusive education: Community and teacher views of Down syndrome. International Journal of Disability, Development and Education,
50 (1), pp. 65–76
Gobah T. (2014, May 14). Special schools to reopen next week, Graphic online, retrieved 20th
            February, 2015 from http://graphic.com.gh/news/general-news/22920-special-schools-
            can-t-reopen-due-to-feeding-grant-arrears.html.
Hayford, S.K. (2013), Special Educational Needs and Quality Education for All. University of         Education, Winneba: Salt n Light.
Kuyini A. B. (April 4, 2010), Inclusive Education in Ghana. Are we Achieving the vision? 
Ghanaweb, Available from <http://www.ghanaweb.com/GhanaHomePage/features/artikel.php?ID=179726>
3 May 2015].
Kiyuba, J & Tukur, S. Y. (2014) Challenges of providing special education to children with
disabilities: View of teachers and education officials. (Published Bachelor Degree, University of Stockholm. Retrieved from http://hig.diva-portal.org/smash/get/diva2:764634/FULLTEXT01.pdf
Kyere. K. (2009).Educating the deaf in vocational skills: Selected schools for the deaf.
(Published Doctoral Dissertation Kwame Nkrumah University of Science and Technology, Ghana).
 Retrieved from       http://ir.knust.edu.gh/bitstream/123456789/365/1/KWAME%20KYERE,%20GENERAL%20ART%20STUDIES%20(PDF).pdf
Mamah, V. (2006). Making Inclusion a reality in Ghana. The role of the University of Education, Winneba. African Journal of Special Education Needs. 4(2), 299-305.
Mickelson, R. A (2002) The Academic Consequences of Desegregation and Segregation:
Evidence from the Charlotte-Mecklenburg Schools. Paper prepared for the Conference on the Resegregation of Southern Schools, University of North Carolina at Chapel Hill, Chapel Hill, North Carolina. Available from               http://civilrightsproject.ucla.edu/research/k-12-education/integration-and-diversity/the-academic-consequences-of-desegregation-and-segregation-evidence-from-the-charlotte-mecklenburg-schools/mickelson-academic-consequences-desegregation.pdf
Miles, S. (2000) Overcoming resource barriers: The challenge of implementing Inclusive 
            Education in rural areas. Available online at: www.eenet.org.uk/resources/docs/ 
            [Accessed on 1 June 2015].
Ministry of Education (2013) Education sector performance report. Accra: Ministry of
Education.
Obi F. B., Mensah, T, (2005). Inclusive education: The challenges of the 21st century, Nigerian-
            Ghanaian Teacher. African journal of special educational needs, 4(1), 19-27.
Oliff J (2004) Core curriculum presents new challenges for special education. Retrieved from                
http://thenotebook.org/fall-2004/04764/core-curriculum-presents-new-challenges-special-education
Opoku, MP., Badu, E., Amponteng, M., Agyei-Okyere, E. (2015). Inclusive education at
crossroad in Ashanti and Brong Ahafo regions in Ghana: Target not achievable by 2015. Disability CBR, Inclusive and Development. vol. 26 No., 1, pp. 50-62
Porter G. (2001), Disability and inclusive education. Available from:                <http://www.disabilityworld.org> [12 November 2014].
Save the Child (2008) Making schools Inclusive: how change can happen. Available online at:
http://www.eenet.org.uk/resources/docs/Making%20schools%20inclusive%20SCUK.pdf[Accessed on 10 June 2015].
Swain, J., Sally F. and Colin Cameron (2003). Controversial Issues in a Disabling Society.
                Buckingham: Open University Press
UNESCO 1995 Review of the present situation in special needs education. Retried from
 www.unesco.org/education/pdf/281_79.pdf
UNESCO (2011), Global Education Digest: Comparing Education Statistics Across the World.
 Available from: <www.uis.unesco.org/globaleducation>   [23 March 2015].
Yekple, Y. & Avoke, M. (2006).  Improving Inclusive Education at the Basic School Level in Ghana. African Journal of Special Education Needs.  4, (2). 239-249.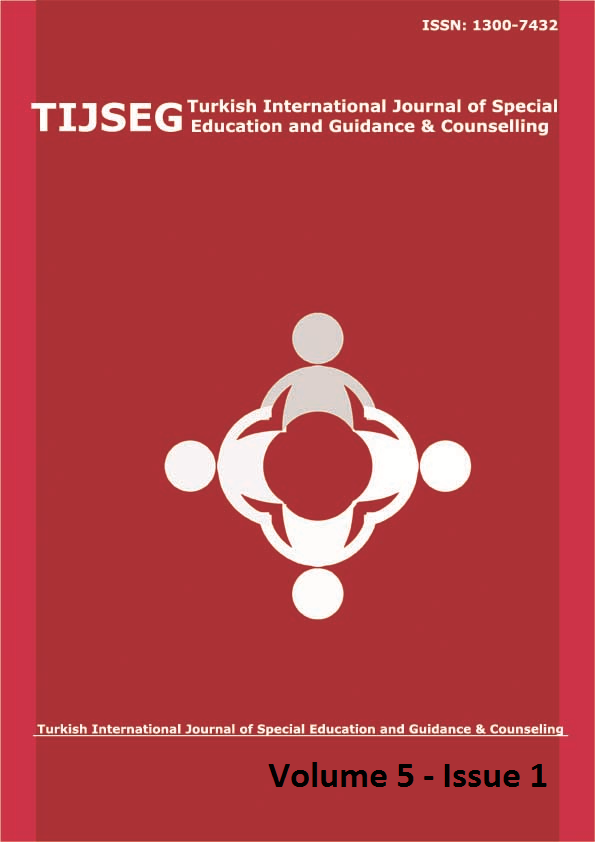 Downloads
How to Cite
Opoku, M. P. . (2016). THE STATE OF SPECIAL SCHOOLS IN GHANA: PERCEPTIONS OF SPECIAL EDUCATORS IN ASHANTI AND BRONG AHAFO REGIONS OF GHANA. Turkish International Journal of Special Education and Guidance & Counselling ISSN: 1300-7432, 5(1), 22–38. Retrieved from https://tijseg.org/index.php/tijseg/article/view/62
License
Copyright (c) 2016 Turkish International Journal of Special Education and Guidance & Counselling ISSN: 1300-7432
This work is licensed under a Creative Commons Attribution 4.0 International License.