SOCIOECONOMIC PREDICTORS OF CYBERCRIME AMONG NIGERIAN YOUTHS IN IBADAN METROPOLIS
Abstract
The Nigerian society today is bedeviled by cybercrimes known in the local parlance as Yahoo Yahoo. Many people are losing their hard-earned fortune to this menace while the country is continually facing image damage in the comity of nations. It is necessary therefore to examine the causes of cybercrimes among Nigerian youths in order to proffer solutions.  This study is an investigation into some socioeconomic predictors of cybercrimes among Nigerian youths in Ibadan Metropolis. Descriptive research design of survey type was adopted. Participants were one hundred and fifty youths within the age range of 18-35 selected through convenience sampling. Four hypotheses guided the study. Socioeconomic Predictors of Cybercrime Questionnaire (SOPOC-Q) designed and validated by the researcher was used to collect data for the study. Data collected were subjected to analysis using frequency count, percentage and analysis of variance (ANOVA). Results shows that internet [F(1,148)=9.617; p<.002] is the most significant contributor to cybercrime followed by peer influence [F(1,148)=1.768; p<.186] and unemployment [F(1,148)=1.829; p<.176] were significant contributors to cybercrime among the participants while economic hardship [F(1,148)=.66; p<.79]) was not significant. Stringent measures to curtail the activities of internet fraudsters, early orientation of children on the need to avoid bad and wayward peers and the need for government and non-governmental organization to provide jobs for unemployed individuals were recommended.
Keywords: Cybercrime, Nigerian youths, socioeconomic predictors, yahoo-yahoo.
REFERENCES
Adebayo, L. O., & Asebiomo, A. M. (2019). Contributing variables to teenage pregnancy among female Adolescents in Nigeria. European Centre for Research Training and Development, 6(1), 22-32.
Adekoya, A. F., & Razak, N. A. A. (2018). Property crime as a consequence of economic misery: Does social welfare matter? Journal of Economic Studies, 4(1), 11-20.
Alfakoro, A. S. Y., Ismaila, Y. A., & Ayodeji, A. H. (2021). Social media and its impact on governance building in Africa: The Nigeria Scenario. Arabian J Bus Manag Review 11: 416.
Amin, S. (2019). The endless nexus between ethnic diversity, social exclusion and institutional quality of Pakistan. International Journal of Sociology and Social Policy, 39(3/4), 182-200.
Bello, T. (2017). Anatomy of cybercrime in Nigeria: The legal chronicle. Journal of Social Studies, 3(9), 1-10.
Bogani, G. (2018). Impact of school-based educational programs on sexual behaviours among adolescents in Northern Italy. Journal of Sex & Marital Therapy, 41, 121-125.
Esiri, L. (2016). Cybercrime in Nigeria. Business Intelligence Journal, 3(1), 12-22.
Glickman, H. (2005). The Nigerian "419" advance fee scams: prank or peril?. Canadian journal of African studies/La revue canadienne des études africaines, 39(3), 460-489.
Ibrahim, S. (2016). Social and contextual taxonomy of cybercrime: Socioeconomic theory of Nigerian cybercriminals. International Journal of Law, Crime and Justice, 3(9), 34-42.
Ibrahim, S. (2019). Cybercrime in Nigeria: Causes and effects. Journal of Technology, 4(7), 1-9
Igbinedion, S. O., & Ebomoyi, I. (2017). Socio-economic determinants of crime: Further evidence from Nigeria. Annals of the University of Petroşani, Economics, 17(1), 101-114.
Jakaykody, A. S. (2018). Early sexual risk among black and minority ethnicity teenagers: A mixed methods study. Journal Adolescent Health 48, 499-506.
Kazeem, Y. (2020). Nigeria's unemployment rate has more than tripled in the last five Years - and it will only get worse. Retrieved 21/12/2020 from https://qz.com/africa/1892237/nigerias-unemployment-rate-tripled-in-five-years/
Lawson, J., & Afolabi, M. (2020). Chasing the Nigerian Dream: The Proliferation of Cyber Fraud among Nigerian Youths and its Effect on Nigeria's Global Image. International Journal of Intellectual Discourse (IJID), 3(2), 1-10.
McCusker, R. (2016). Transnational organised cybercrime: Distinguishing threat from reality. Crime, Law and Social Change, 46(4), 257-273.
National Bureau of Statistics (NBS). (2020). Labour force statistics: Unemployment and underemployment report (Q2 2020). https://www.nigerianstat.gov.ng/pdfuploads/Q2_2020_Unemployment_Report.pdf
Okeshola, F. B. & Adeta, A.K. (2013). The nature, causes and consequences of cyber crime in tertiary institutions in Zaria-Kaduna State, Nigeria. American International Journal of Contemporary Research, 3(5) 23-35,
Oloworekende, A. (2019). No More Insufficient Fund: Yahoo Yahoo and Cyber-Crime's Ecosystem. Retrieved from republic.com.ng: https://republic.com.ng/august-september-2019/yahoo-yahoo-naija/
Osuntuyi, P. M., Ireyomi, A. O., & Aluko, O. P. (2021). Youths and cyber insecurity in Nigeria: The role of religion in mitigating against the yahoo yahoo phenomenon, Rwanda Journal of Social Sciences, Humanities and Business, 3(6), 12-23.
Sennott, C., & Mollborn, S. (2011). College-bound teens' decisions about the transition to sex: Negotiating competing norms. Advances in Life Course Research 16, 83-97.
Sylvia, E., Frank, Q., Omotosho, J. A., & Hagan, J. E. (2021). Assessment of peer pressure and sexual adventurism among adolescents in Ghana: The moderating role of child-rearing practices. Journal of Social Sciences, 10(2), 41-52.
Tade, O. (2018). A spiritual dimension to cybercrime in Nigeria: The Yahoo-Plus' phenomenon.  Human Affairs, 23(1), 689-705.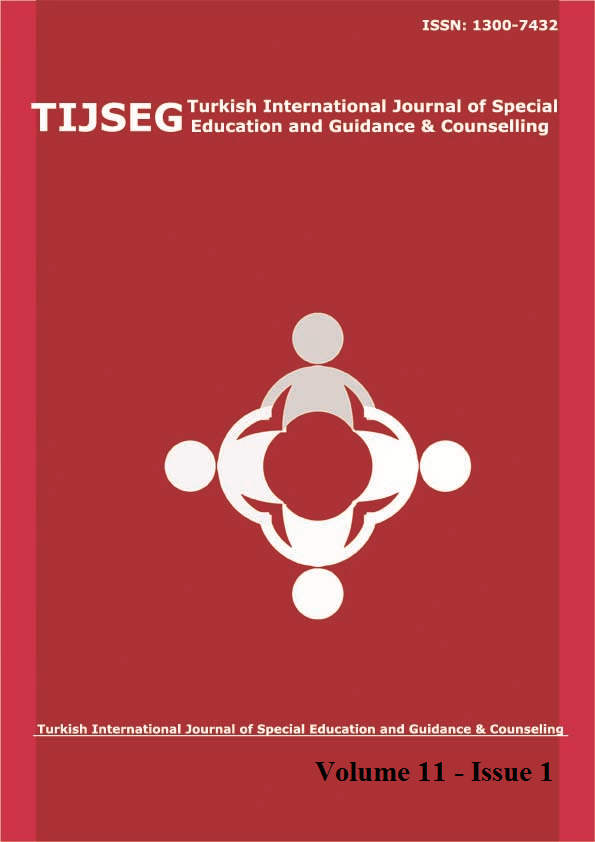 Downloads
How to Cite
MOLOKWU , A. N. . (2022). SOCIOECONOMIC PREDICTORS OF CYBERCRIME AMONG NIGERIAN YOUTHS IN IBADAN METROPOLIS. Turkish International Journal of Special Education and Guidance & Counselling ISSN: 1300-7432, 11(1), 61–68. Retrieved from https://tijseg.org/index.php/tijseg/article/view/167
License
Copyright (c) 2022 Turkish International Journal of Special Education and Guidance & Counselling ISSN: 1300-7432
This work is licensed under a Creative Commons Attribution 4.0 International License.