EĞİTİM FAKÜLTESİ ÖĞRETİM ÜYELERİNİN KAPSAYICI EĞİTİME YÖNELİK GÖRÜŞLERİ
Abstract
OPINIONS OF THE FACULTY MEMBERS OF THE FACULTY OF EDUCATION ON INCLUSIVE EDUCATION
Inclusive education encompasses all disadvantaged children and is closely related to the provision of the right to education. The aim in inclusive education is to help children from different cultures, from different societies and from different regions to participate in education in the best possible way and to benefit from all educational opportunities in this sense. The aim of this study is to determine the opinions of the teaching staff working in the university on the policies which should be developed in relation to the education of children who have migrated from various regions. The study group of the study consists of seven instructors working in education sciences in Çanakkale Onsekiz Mart University Faculty of Education. The research method is a qualitative research designed as a scientific research. A case study was established. The aim is to obtain in-depth knowledge from experienced people who are aware of the purpose but are not fully knowledgeable. For this purpose, an interview form consisting of six items was prepared. Accordingly, the results obtained should provide the best possible education for children coming from the phenomenon of migration and necessary resources should be prepared for  this.
Keywords: migration, inclusive education, basic education, teaching staff
ÖZ
Kapsayıcı eğitim geniş anlamda tüm dezavantajlı durumda olan çocukları kapsamaktadır ve bu bağlamda bu çocuklara eğitim hakkının sağlanmasıyla yakından ilişkilidir. Burada kapsayıcı eğitimdeki amaç farklı kültürlerden, farklı toplumlardan, farklı bölgelerden gelen çocukların eğitime en iyi şekilde katılmalarını sağlamak ve bu anlamda tüm eğitim fırsatlarından yararlanmalarına katkıda bulunmaktadır. Bu çalışmadaki amaç üniversitede görev yapan öğretim elemanlarının, kapsayıcı eğitim içerisinde yer alan ve çeşitli bölgelerden göç edip gelmiş olan çocukların eğitimine ilişkin olarak geliştirilmesi gereken politikalar konusunda görüşlerini belirlemektir. Araştırmanın çalışma gurubunu Çanakkale Onsekiz Mart Üniversitesi Eğitim Fakültesi, Eğitim Bilimlerinde görev yapmakta olan 7 öğretim elemanı oluşturmaktadır. Araştırmanın yöntemi ise bilimsel bir araştırma olarak tasarlanmış nitel araştırmadır. Olgu bilim deseni kurulmuştur. Burada ki amaçta farkında olunan fakat tam olarak derinlemesine bilgi sahibi olunamayan olgular hakkında deneyimli kişilerden derinlemesine bilgi elde etmektir. Bu amaçla araştırmaya yönelik 5 maddeden oluşan bir görüşme formu düzenlenmiştir. Buna göre elde edilen sonuçlar, göç olgusuyla gelen çocukların en iyi şekilde eğitimini sağlamak olmalı ve bunun için gerekli yeterli kaynaklar hazırlanmalı dezavantajlı guruplarda yer alan bu çocuklara yönelik makro eğitim politikaları geliştirilmelidir.
Anahtar Kelimeler: göç, kapsayıcı eğitim, temel eğitim, öğretim üyesi
KAYNAKÇA
A.Banks, J. (2009). The Routledge International Companion to Multicultural Education. New york: Routledge, Taylor and Francis.
Başak Ekim Akkan, M. B. (2011). Sosyal Dışlanmanın Roman Halleri. İstanbul: Taner Koçak.
Büyüköztürk, Ş. (2005). Sosyal Bilimler İçin Veri Analizi El Kitabı. Ankara: PegemA Yayıncılık.
Crick2, Y. K. (2016). Differential associations between maternal and paternal parenting and. Asian Journal of Social Psychology.
EREŞ, F. (2015). Türkiye'de Göçmen Eğitimi Sorunsalı ve Göçmen Eğitiminde Farklılığın Yönetimi. Çankırı Karatekin Üniversitesi Sosyal Bilimler Enstitüsü Dergisi.
ERG. (2016). ENGELİ OLAN ÇOCUKLARIN TÜRKİYE'DE EĞİTİME ERİŞİMİ: DURUM ANALİZİ VE ÖNERİLER. İstanbul: Simla Gürsan.
ERG. (2016). TÜRKIYE'DE ORTAÖĞRETIMDE KAPSAYICI EĞITIM DURUM ANALIZI. istanbul: ışıl oral, deniz aksay, simla gürsan.
ERG. (2016). türkiye'de ortaöğretimde kapsayıcı eğitim durum analizi. istanbul: ERG.
Mărgărițoiu, A. (2018). INCLUSIVE EDUCATION – A CONSTRUCT WITH DIFFERENT MEANINGS FOR FAMILIES AND TEACHERS. Educational Sciences Department, Petroleum-Gas University of Ploiești.
Mosquera*, Ó. A. (2018). Pedagogical and Research Approaches in Inclusive Education in ELT. Universidad Nacional de Colombia, Bogotá, Colombia.
Palys, T. (2008). Purposive sampling. In L. M. Given (Ed.) The Sage Encyclopedia of. Qualitative Research Methods. (Vol.2). Sage: Los Angeles, pp. 697-8.
Shanidapha Soha1, N. R. (2018). The Development Management of Inclusive Education Model for School under the Office of Educational Service Area 25. Journal of Education, Mahasarakham University.
Stegemann*, K. C. (2018). Making it Logical: Implementation of Inclusive. Learning Disabilities: A Contemporary Journal 16(1), 3-18, 2018.
Uçuş, Y. D. (2016). Dezavantajlı Çocukların Velilerine Uygun Olarak Hazırlanan. e-International Journal of Educational Research.
UNESCO (2009). Policy guidelines on inclusion in education. Fransa: UNESCO.
Vitor Teixeira, A. C. (2017). Placement, inclusion, law and teachers' perceptions in Macao's. INTERNATIONAL JOURNAL OF INCLUSIVE EDUCATION.
Yıldırım, A., & Şimşek, H. (2005). Sosyal Bilimlerde Nitel Araştırma Yöntemleri. Ankara: Seçkin Yayınları.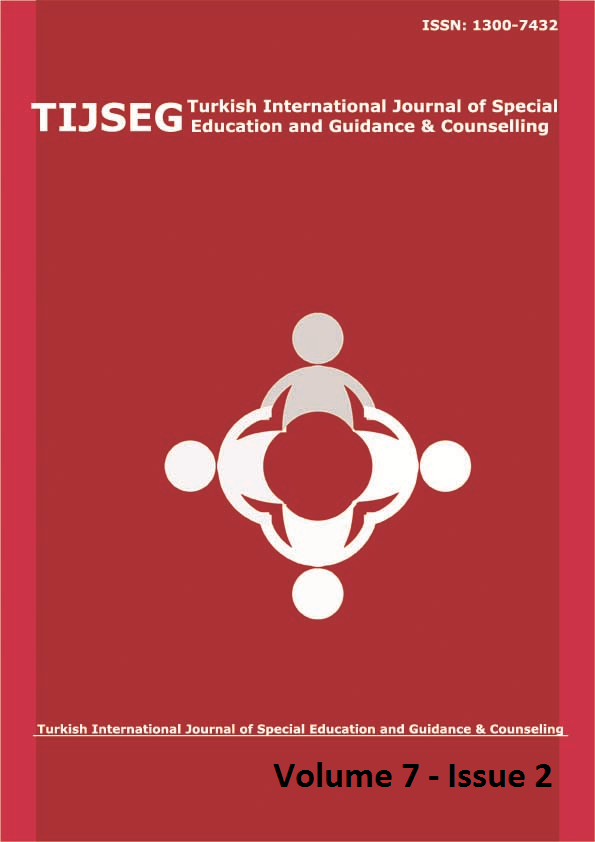 Downloads
How to Cite
İRA, N. ., & GÖR, D. . (2018). EĞİTİM FAKÜLTESİ ÖĞRETİM ÜYELERİNİN KAPSAYICI EĞİTİME YÖNELİK GÖRÜŞLERİ. Turkish International Journal of Special Education and Guidance & Counselling ISSN: 1300-7432, 7(2), 29–38. Retrieved from https://tijseg.org/index.php/tijseg/article/view/44
License
Copyright (c) 2018 Turkish International Journal of Special Education and Guidance & Counselling ISSN: 1300-7432
This work is licensed under a Creative Commons Attribution 4.0 International License.